June 23rd, 2006
---
04:20 am
Today we're in Manhattan. Are staying in the most gorgeous apartment, with floor to ceiling views across the city that take in the Empire State and the Statue of Liberty, amongst other things. Photos to come. Had dinner and then a crazy drive back to the apartment at a speed you really wouldn't think you could do here. Good fun. Yes.

June 20th, 2006
---
11:52 am
We're in the US. 'tis great. Having fun. Will write more soon. Hurrah!

June 4th, 2006
---
09:40 pm
Right, well, a couple of things:

1. I start working full-time tomorrow. This means, for the first time in my life, I'll be doing 9-5, 5 days a week. It just doesn't seem natural. The money will be nice, though.

2. The new young persons' worker starts tomorrow; her name is Gemma, apparently, but we won't hold that against her (until meeting her, naturally). I have, because I'm a fucking lovely human being, bought her one of those "put your photo on a cake" cakes from Asda, using this picture: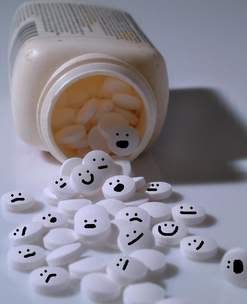 It has come out bloody ace, if I do say so myself, and if she doesn't like it then her face is going into it. The ladies in Asda did look at me a little strangely until I pointed out that I work for a substance misuse service.

3. Forgot to mention that we went to see X-Men 3: Look, it's the X-Men again last week. It was okay, nowt special. I kinda thought that they neglected plot and what semblance of depth the first two summoned in favour of BANG! FLASH! WOWSERS! Not that there's anything wrong with that, necessarily, except for the fact that I wanted depth. I award this film two and a half golden prongs.

4. Bought the new Pet Shop Boys album and have been listening to it on the commute. I'm liking it, not quite what I expected/hoped for but growing on me with each listen. Does anybody else resent them for having some fucking excellent, dramatic introductions which reach a great climax and then... oh, it's a ballad. I do. Anyway, I award this CD six golden prongs.

5. I've been a good boy and updated my blog more frequently this past week or so, but there's still a dearth of comments. If you love me, people, you'll comment. I am an attention whore, remember.

Another question; does anybody reading this have a computer running Windows Media Centre Edition?

May 31st, 2006
---
02:49 pm
Poor neglected LJ. Here's what's going on for me lately:



They're taking me on full-time in Wrexham, which is flattering because by all rights and intents I should really be leaving them this coming Monday. However, I'm still job hunting because...


...Cam & I have found a flat. It's gorgeous; two bedrooms, wetroom, everything freshly renovated. Apparently we'll be able to get up to 18meg broadband, too, which I'm geekily excited about. We pick up the keys on 3rd July, the day after getting back from the US. Thing is, if my number fuddling is correct, the commute to and from Wrexham will pretty much bankrupt me, hence me still being buried in application forms. Arse. You'd be surprised how many of them are interviewing in the two bloody weeks we're away. Bastards.


Good news, though, on the camera front; apparently it's fixed and will be back with me soon. They couldn't tell me what the problem was, but at least they found that there was one to fix, and apparently there'll be a report in with it when it's returned.


There's something else that should be here, but I can't pissing remember what. It'll come to me, hopefully



A question to other people who blog - how long does it take you to put together an average post? Not just the copy, but actually formatting it all, finding pictures, cropping/resizing them, laying it out, all that muckery. I seem to spend bloody ages doing Dante's Handcart, and I don't know if that's normal.

May 22nd, 2006
---
03:38 pm - Sigh
Well, my lovely digital camera is winging its way back to Sony so that their engineers can stop it from turning itself on. I haven't had much luck with their tech stuff in the past, and it looks like that trend is continuing! However, they've told me that I can escalate it once I have a case number, so it should be sorted before we go to the States.

If by any chance you've not paid a visit to my blog, there've been a couple of new posts there over the past few days so now is a great time to take a look *hint hint*

May 20th, 2006
---
05:09 pm - Bargain!
DSC00161
Originally uploaded by vindacatrix.

£9.95 from Tesco. 3km range.

Not much point, but fun nonetheless!


May 19th, 2006
---
02:19 pm - Grr
Let me tell you, if/when we move to the US I'll definitely be buying a gun and joining a gun club. Some sort of big, sexy, black-anodised pistol I think. Then, when I'm fuming after dealing with the post-lunchtime traffic wankers like just now, I can squeeze off a few rounds and let all that angst slip away among clouds of cordite.

May 15th, 2006
---
04:31 pm
We went to the exciting Manchester Museum of Science & Industry today, as Cam has an interview there later on this week. It's almost exactly like I remember it from a school trip 16 or so years ago. Anyway, a few photos are up on flickr, including one of me trying to destroy the world.

May 13th, 2006
---
02:28 pm - IE7
Anyone else been trying the Internet Explorer 7 beta?

May 8th, 2006
---
07:37 pm - Nice to work at if you can get it
Saw this on Lifehacker the other day; an Ikea desk that can be electrically raised and lowered between sitting and standing height.




I love working standing up and pacing around. Now I just have to find £450. Hmm.